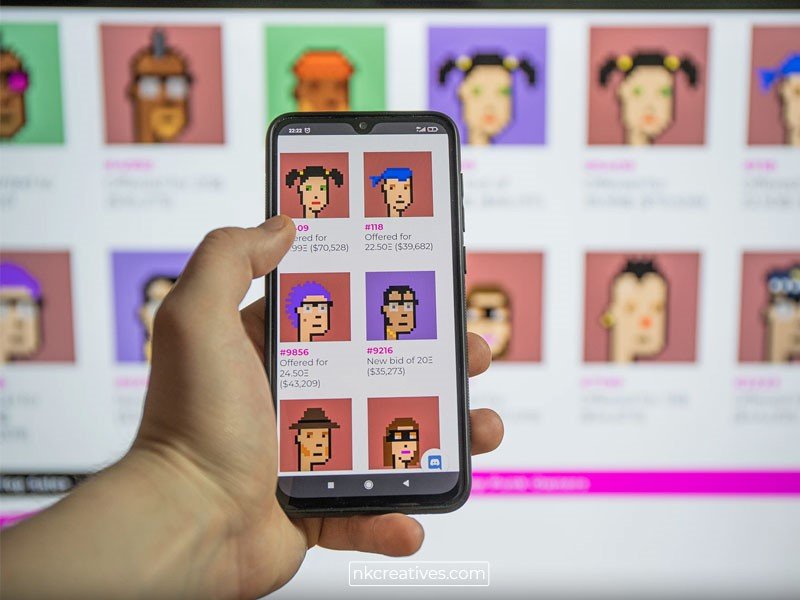 An Easy Step-by-Step Guide to Start Selling Your NFT Art
In many of our previous blogs, we've highlighted that the world is technologically advancing. Every sector around us is positively getting affected by technology. Even the finance sector got touched by technology and now it is rapidly changing.
Some years back, no one thought that the world would ever shift to a decentralized currency. But, here we are and decentralized currency is not a dream anymore. More and more people are realizing about it.
Another thing that is becoming popular with cryptocurrency is NFT. NFT is a Non-fungible Token which means that there stays only one owner for a thing. Before NFT, multiple people could buy a thing, which is why the value was low. With the introduction of this technology, the value of a thing, usually art, increases by many folds.
NFT has brought with it an opportunity for many designers all over the world to create art that sells for a large amount. The costliest NFT art piece sold for $69 million in March 2021. This is a big amount for a normal art piece but NFT art is priced like this because of the rarity. So, if you want to start creating NFT art, you'll not want to miss reading this blog because we'll tell you the step-by-step guide.
Let's start.
Sign Up
The first thing you have to do is choose a platform for selling your NFT art. The number of platforms is constantly growing, so choosing a reliable one becomes important. We're talking about money here, so having the best security is important.
Some of the best platforms for selling NFT art are:
These are trusted platforms and people from all over the world choose them.
Signing up is easy, which means people not familiar with technology can also use them.
Buy Cryptocurrency
The second step is to buy cryptocurrency. Prefer buying Ethereum because it is the base of NFT. Moreover, the price is pretty stable, meaning you won't be risking buying a cryptocurrency & selling it at a loss.
Buying cryptocurrency is crucial because most NFT art platforms charge fees because they have to keep their website functional. So, use some amount to buy cryptocurrency. If not for NFT art, we encourage you to buy crypto because this sector is going to explode in the coming years
Create A Digital Wallet
Digital Wallet is similar to your regular wallet. That's because it stores money and can be carried anywhere. Surprisingly, carrying a digital wallet is even easier because it is an application that can easily be installed on any smartphone.
In your digital wallet, you can store the cryptocurrency you own. For NFT art, you can access Ethereum. You can keep Bitcoin, Dogecoin & many other cryptocurrencies.
Creating an account on a digital wallet platform is pretty easy because you just have to fill in the details. The legal details will differ with the country you're in. For the United States of America (USA), the details may be different and for India, the details may be different. That's because each country asks for different legal documents. In India, you need to connect your Aadhaar & PAN Card as both these documents are required to check whether a person is genuine or not. So, make sure you have all your documents handy.
Some of the best crypto wallets are:
Coinbase
Robinhood
Binance
eToro
We recommend you use any out of these digital wallets.
Link Wallet To NFT Platform
After you've created a wallet and put cryptocurrency into it, you have to link it to the NFT platform you want to use. It is important because the amount you'll get after someone buys your art will directly go to your wallet.
You have to read all the terms and conditions and accept them if you successfully want to link your wallet and the NFT platform. We say you have to carefully read the terms because cryptocurrency is a topic many governments don't want to address. So, keep that in mind.
Upload Your Art
After you've created your digital wallet, it is time to create the art. You have to dedicate a lot of time as you'll be displaying your art in front of a large audience and you'll be selling it. And selling something you did half-heartedly isn't a good thing. If you can't put in enough effort into the art, take help from NK Creatives as we have the best logo design, social media design and everything else related to graphic design.
You can check out NFT art and see what kind of art gets the best response. You don't have to do the same thing because your style may be entirely different. Know that different and unique things usually grab hefty prices.
Write Art's Description
A detailed description should accompany the art you upload on the platform of your choice because no one will buy something if the details are incomplete. After all, you're selling your art and who would spend money on a person's art who didn't put in enough effort to write all the details.
You have to explain the context to the readers. When you do, people understand what the art signifies. And if the NFT art is in line with what they want, they can buy your art. Don't underestimate your work because what's not-so-good for you may be an amazing art piece for another individual.
Set NFT Art's Price
There are two ways you can sell NFT- Fixed Price & Bidding. Both options are good, but bidding is better if you don't know how much your art is worth. When you have a fixed price, only interested people will message you.
The most basic art pieces have been sold for hefty prices. So, don't lose hope when your art doesn't get much attention. Instead, keep creating art because you never know which one can sell for a high price. The price may not be as high as Beeples' but it sure can sell in thousands.
Conclusion
NFT art is growing & more and more people are realizing it. Selling art is a dream for many artists because other than popular artists, good artists aren't able to grow in today's competitive market.
This blog provided you with valuable information on the step-by-step guide to start selling your NFT art. If you're an artist and aren't familiar with technology, this blog is the best way to know about it. We wrote the blog in easy language so that it reaches more people.