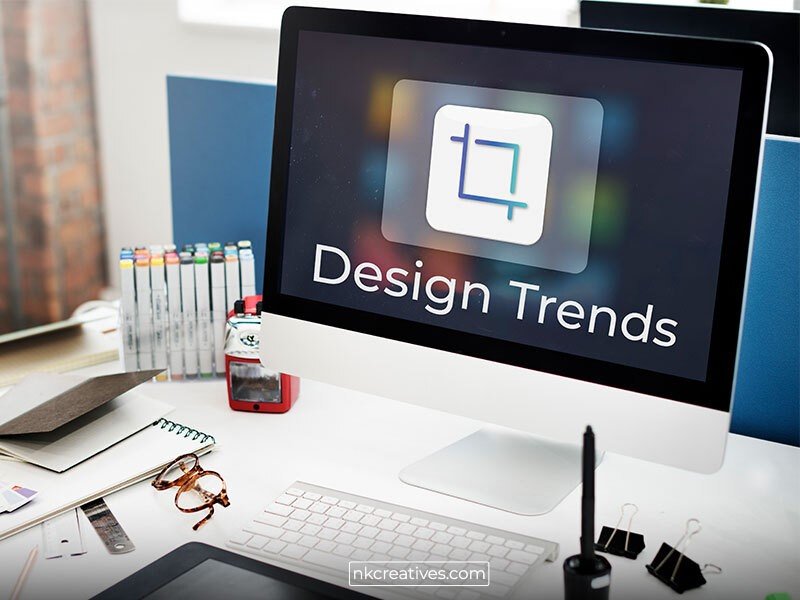 Latest Graphic Design Trends You Must Know
The way design gets done, must bespoke brands, be informative, or convince the audience using different images, colors, and shapes. In 2022, bright, vibrant, and pop art is winning the floor. The paramountcy of graphic design is interlinked with bold colors, artistic typography, and abstract shapes. However, graphic design trends constantly change to incorporate the next marketing level and hedge the competition. To deliver the perceived and contemporary graphic designs to those that tend to lean on digital platforms.
Bring the momentous transformation and follow the trends mentioned below to create successful designs:
3D Modeling
3D modeling software has huge importance for making graphic designs. It makes a compelling impression on clients with photorealistic illustrations and mockups. 3-dimensional highly textured 3d characters give an aesthetic appeal to the designs.
Designs created with 3D modeling software can enhance capabilities in all areas of graphic, environmental, and product designs. The intended end-use of the designs can be intimidating that immensely benefit graphic designers.
Moreover, Graphic design is undergoing significant change as a result of 3D printing technology. Achieve something remarkable with 3D modeling eye-catching designs. 3D graphics will continue to be a strong trend on digital platforms in the coming days.
Motion Design
Motion design creates both corporate and creative environments. Visualizations are becoming more important, leading to the rise of motion graphics. Animations are an even more engaging piece of art than static images.
Motion graphics have become more popular owing to higher conversion rates, more traffic, and engaged leads in your pipeline. Motion graphics videos are widely used according to marketing trends. Motion graphics improve communication, marketing, and promoting social awareness for online advertisements.
In today's fast-paced world, significantly contribute to a brand's identity. Consumers are sure to have better brand awareness with motion graphics. To make your brand recognizable video graphics are reuniting a world through live-action.
Fonts with Retro Style
Retro pop culture with exclusive colors and symmetrical and linear designs is contributing heavily to the emerging designs category such as poster design, logo, and advertising. Retro headline style is trending the way it is used in designs for short words. Its readability is a high priority for creating a vibe for your website. The designs with colors and surrounding elements contribute to the overall look.
Retro-Futurism as per the latest trend is used to make visual elements from vintage sources to create modern style designs. Retro design is prominent for using simple bold fonts that evoke retro posters recreating pop culture using a vintage design.
Pastel Color Palettes
Pastel palettes' subtle look makes a powerful impact on designs. Its unique ability soothes the viewer through vibrancy and brightness. While much of the web is trending toward dark aesthetics pastel background gives designs a modern feel when paired with the headline font.
pastel palettes are becoming increasingly popular, particularly in the realm of logo designs.
While branding a company, the palette creates a vibe that reaches the audience and touches emotions. Dark color palettes are in great demand that speaks to mystery and thrill. A bright color palette will bring feelings of adventure, happiness, and boldness. A pastel palette is the best way to promote your brand everywhere whether it's on your social media, website, or logo. Its color and design must showcase your brand to the fullest extent.
Creating Illustrations
Custom illustrations help to personalize a brand with creative animated graphics. Incorporating illustrated characters can increase user engagement, build empathy, and create a unique brand experience.
Illustrations not only improve user experience but also helps you communicate the story of your brand and products, resulting in higher engagement and conversion rates.
Illustrations are falling in alignment with graphic design with photographs, paintings, animation, and other designs. Therefore, an illustration is the best way to perceive customers' attention in innovative ways. It can certainly effectively portray the companies' abstract brand values.
Memes Art
Memes have startled social media with amazing performances, and memes surprisingly become more for engagement. Memes tend to attract more attention than others graphics as they quickly go viral.
Many companies are taking advantage of this trend to get more engagement, expand their audience and reach new potential customers. In fact, meme, art has a strong sense of appeal to the audience but you need to create your own rather than using those circulating already.
You need to make more efforts to use original, quality pictures so that your audience responds well and starts sharing the memes. The meme is a great way to make your designs and animations feel more organic and natural.
Moreover, meme art doesn't require technical designing skills. Its creativity and content are readily available in form of movies, music albums, and art. In other words, it's a simple but effective way of marketing.
Final Thoughts
The ways of graphic designing are changing with time. As new technologies and tools are introduced every day to keep up with the latest trends. Graphic designers should be aware of the new trends to stay ahead of the competition.
With digital transformation design trends driven by viewers' feedback. So, keeping an eye on emerging trends incorporating creative and successful designs is important.