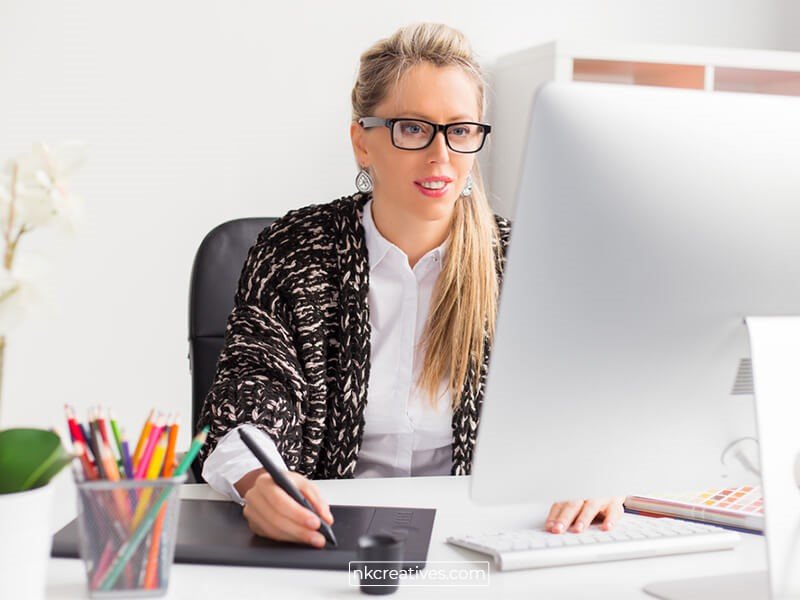 7 Lucrative Industries In Graphic Design Industry
The graphic design industry is gaining popularity with each passing day. In today's time, you can't expect a business to do well on the internet & in real life. From clothing to gaming, every business needs expert graphic designers to make the brand come across as modern & attract large audiences.
If you're interested in entering into graphic design, you can't simply enter the industry. That's because it is a wide industry, meaning there are so many other things that one can become an expert in. From logo designers to animation designers, there are several others fields you can enter.
If you feel confused and want to drop your decision of entering into the graphic design industry, you need to read this blog. That's because this blog will tell you about 7 lucrative industries in the graphic design industry. You can enter the industry you connect with the most.
Let's start.
Logo Designer
These days, more and more businesses are moving online. And when a business moves online, they have to have a logo. Without a logo, businesses can't connect with people & can't establish themselves as an authority in their niche. You can read more about why logos matter here.
The logo design industry is a lucrative one because business owners are ready to pay hundreds of dollars for them. That's because they know the importance a logo holds. A logo stays with a business forever. So, it is natural that businesses would want only the best.
You have to know all the details about logo design. We highly recommend you do a good logo design course.
Web Designer
More and more businesses around the world are realizing the importance of a website. It is an absolutely essential aspect of a business and these days no company can become successful without it. And only a website is not enough. Anyone can create a basic website. Businesses really have to put in the effort in creating the best website that tells people about them.
It is why many businesses hire web designers. The work of a web designer is to design a website from start to finish. They have to design all the pages, the icons, the spacing for each part and so many other things. Moreover, they have to take care of the website's color because different colors give a different feel to users.
This is a growing market and now is the best time to do a professional web designing course. If you have some experience with graphic design, you can make a transition very easily.
Video Editor
The movies, documentaries and YouTube videos all require an expert video editor. Raw videos can't be uploaded or shown to people because they just don't look good. From adding effects to adjusting colors, there are so many things a video editor takes care of.
Big production companies hire the best of the best video editors. They know that only good video editors can make a movie or a documentary seem appealing. Although video editing is a bit challenging, it is totally worth the effort one puts in learning it.
The pay is excellent and one can expect to work with the best companies on the planet. The need for a video editor will always be there. It's just that you have to be an expert at it to demand whatever pay you want.
Packaging Designer
Many people don't know that they can become packaging designers. Their work is to create designs for the packaging of different products. All kinds of products these days require a design. Without a great design, companies fail to tell about their product to the people.
Packaging design isn't as easy as it might seem. The work requires you to create an awesome image and adjust the size and style of font. As the packaging will be seen by a lot of people from all age groups, you need to make sure that the design is not overdone.
There is a shortage of packaging designers. If you learn this skill, you can approach brands that sell products because those brands want new designs after every few months. And if you can establish yourself as an expert in the field, more and more businesses will choose you. Don't underestimate the power of word of mouth.
Animation Designer
If you've ever seen movies like the Lion King & Up, you'll know that the animation industry has come a long way. The cutscenes you see in your favorite games are also animated. Many people have also started uploading animated videos on YouTube. A very famous channel IMR Scary Tales uploads animated horror videos regularly.
What we want to say by telling you all this is that the animation industry is growing and will surely grow even more in the coming years. If you love this industry, you can enter it. There are many excellent courses available on the internet that can teach you animation from the basic stages and slowly build up and make you an expert. You can't entirely stay dependent on the course as a lot of practice is needed.
But, if you do everything right, you can start earning a very good amount. This industry pays heavily because there is a shortage of skilled people. We highly recommend that you at least consider this industry.
Social Media Designer
Apart from the need for website designers rising, there is also a huge demand for social media designers. The work of a social media designer is to create designs for social media posts. There is a huge demand for this job because a majority of people nowadays use social media handles. Businesses that don't focus on it realize later that they just can't ignore it.
A person who decides to become a social media designer has to be very good at understanding what the youngsters want. They have to use proper fonts, colors and know how to design carousel posts. The career as a social media designer is bright, which is why more and more people are transitioning to this design niche.
User Experience (UX) Designer
A user experience (UX) designer is a person who improves the experience of users on websites and applications. They're unlike typical designers because they not only design things but also identify the placement of those designs. They have to think from users' perspectives and know what they would do after looking at or doing a certain thing on a website or an application.
Many people face difficulty in this role because they can't think from a user's perspective. If you have an eye for detail and know what people normally do on websites and applications, you might be the right fit for this role.
As the demand is at an all-time high, you get very good pay as a user experience (UX) designer.
Conclusion
Graphic design in itself is a lucrative industry. But not everyone can learn all the things in graphic design. Moreover, it is better to be an expert in one field instead of a jack of all trades. Businesses don't trust people who claim to do it all because it's obvious that no one can be that good at something.
We shared 7 lucrative industries in the graphic design industry for you to choose from. We're sure that you'll at least find one industry that you want to go into.
If you found this blog helpful, share it with others.